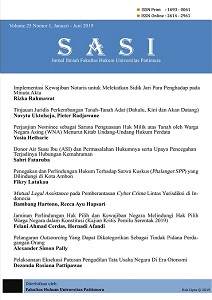 ISSN Online: 2614-2961
ISSN Print: 1693-0061
Frequency: 2 issues per year (June, Desember)
Editor in Chief: Sarah Selfina Kuahaty
Managing Editor: Muchtar Anshary Hamid Labetubun
Focus:  Criminal Law, Civil Law, Constitutional Law, International Law, Administrative Law, Environmental Law, Customary Law and other parts related to contemporary issues in the field of law.
Citation Analysis: Google Scholar
Publisher: Faculty of Law Pattimura University
Indexed/Abstracted by: Directory of Open Access Journals (DOAJ), BASE, Google Scholar, Index Copernicus, OCLC WorldCat, SINTA
SASI is a peer-reviewed journal. The purpose of this journal is to provide a place for academics, researchers and practitioners to publish original research articles or review articles. This journal provides direct open access to its content based on the principle that making research freely available to the public support greater global knowledge exchange. SASI is available in print and online versions.
SASI has been accredited by Kemenristek Dikti No. 28/E/KPT/2019 (Sinta 3)
(e-ISSN: 2614-2961 |  p-ISSN: 1693-0061)
---
---
SASI - Accreditated Rank 3 (Sinta 3) by RistekDikti of The Republic of Indonesia

ACCREDITATED "Rank 3" (Peringkat 3) by Ministry of Research, Technology and Higher Education of the Republic of Indonesia, Decree No. 28/E/KPT/2019, September 26, 2019.
Posted: 2019-10-20
Pengantar Editorial
Issu Hukum merupakan analisis suatu kasus adanya kekosongan hukum, yaitu adanya kebutuhan hukum masyarakat yang belum atau tidak tertampung dalam peraturan perundang-undangan atau hukum baik yang tertulis maupun yang tidak tertulis.
Dalam edisi Volume 25 Nomor 2, Juli - Desember 2019 ini beberapa permasalahan hukum yang menjadi sorotan adalah Pembatalan Peraturan Daerah dan Akibat Hukumnya Menurut Undang-Undang Nomor 23 Tahun 2014 Tentang Pemerintahan Daerah, Eksekusi Aset Debitor yang Berada Di Luar Negeri dalam Penyelesaian Sengketa Kepailitan, Pertanggungjawaban Hukum Pejabat Pembina Kepegawaian dan Pejabat yang Berwenang atas Kesalahan dalam Penjatuhan Hukuman Disiplin Pegawai Negeri Sipil, Transplantasi Organ Tubuh sebagai Pengganti Hukuman Qhisas dalam Hukum Islam (Studi Terhadap Delik Pelukaan Mata), Status Hukum Jaminan Pesawat dalam Perkembangan Objek Jaminan Di Indonesia, Kekuatan Putusan Badan Penyelesaian Sengketa Konsumen Terkait Keberatan dan Pembatalan Putusan Arbitrase Sebagai Alternative Dispute Resolution dalam Penyelesaian Sengketa Konsumen, Legalitas Peremponang atau Muhabet sebagai Organisasi Kemasyarakatan, Penyelenggaraan Pemerintah Negeri di Pulau Ambon Kabupaten Maluku Tengah Pasca Berlakunya Undang-Undang Nomor 6 Tahun 2014 Tentang Desa, Jaminan Sosial Tenaga Kerja Bagi Mahasiswa Magang Profesi pada Perguruan Tinggi Implementasi dari Undang-Undang Ketenagakerjaan, Perlindungan Hukum Pemegang Saham Minoritas Perseroan Terbatas Tertutup dan Keadilan Berdasar Pancasila.
Pemikiran-pemikiran ilmiah yang dikaji di atas merupakan upaya pengembangan dan pembaharuan ilmu hukum kedepan, semoga tulisan-tulisan ini bermanfaat.
Table of Contents
Articles
Victor Juzuf Sedubun

Marthinus Johanes Saptenno

Jemmy Jefry Pietersz

Sostones Yacobis Sisinaru

Abstract views: 67 |

PDF (Bahasa Indonesia) Views: 56

107-120

Rizka Rahmawati

Abstract views: 94 |

PDF (Bahasa Indonesia) Views: 56

121-132

Rony Alfredo Rumapea

Abstract views: 61 |

PDF (Bahasa Indonesia) Views: 41

133-145

Amin Ramly

Abstract views: 69 |

PDF (Bahasa Indonesia) Views: 42

146-154

Martin Ari Gunanta Sembiring

Abstract views: 121 |

PDF (Bahasa Indonesia) Views: 128

155-159

Surya Muhammad Gunarsa

Abstract views: 172 |

PDF (Bahasa Indonesia) Views: 59

160-172

Reny Heronia Nendissa

Abstract views: 46 |

PDF (Bahasa Indonesia) Views: 20

173-181

Natanel Lainsamputty

Abstract views: 52 |

PDF (Bahasa Indonesia) Views: 41

182-191

Ronny Soplantila

Abstract views: 141 |

PDF (Bahasa Indonesia) Views: 141

192-198

Mustaqim Mustaqim

Agus Satory

Abstract views: 98 |

PDF (Bahasa Indonesia) Views: 41

199-210