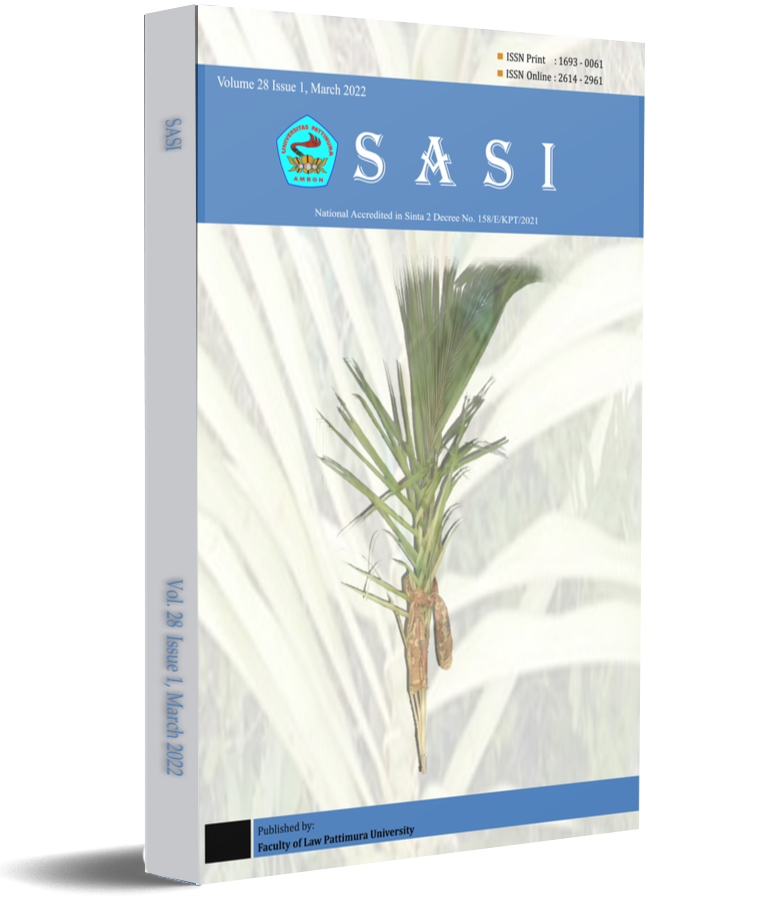 ---
---
SASI is a peer-reviewed journal. The purpose of this journal is to provide a place for academics, researchers and practitioners to publish original research articles or review articles. This journal provides direct open access to its content based on the principle that making research freely available to the public support greater global knowledge exchange. SASI is available in print and online versions.
SASI has been accredited by Direktur Jenderal Pendidikan Tinggi, Riset, dan Teknologi No. 158/E/KPT/2021 (SINTA 2), Valid from Vol. 26 No. 3, 2020 until Vol. 31. No. 2, 2025
OAI Address
SASI has OAI address: 
https://fhukum.unpatti.ac.id/jurnal/sasi/oai
Before submission,
You have to make sure that your paper is prepared using the SASI paper TEMPLATE, has been carefully proofread and polished, and conformed to the author's guidelines. 
Online Submissions
1. Already have a Username/Password for SASI ? GO TO LOGIN
2. Need a Username/Password ? GO TO REGISTRATION
Registration and login are required to submit items online and to check the status of current submissions.
---

SASI has been Indexed by :
---
No announcements have been published.
Table of Contents
Articles
Ronald Fadly Sopamena (Faculty of Law Pattimura University, Ambon)

336-343

Junaidi Junaidi (Faculty of Law Sjakhyakirti University, Palembang)

Mila Surahmi (Faculty of Law Sjakhyakirti University, Palembang)

Desmawaty Romli (Faculty of Law Sjakhyakirti University, Palembang)

344-357

Arhjayati Rahim (Faculty of Syariah IAIN Sultan Amai Gorontalo, Gorontalo)

Ira Suryani Mustapa (Religious affair office district of Talaga, Gorontalo)

358-368

Lilian Gressthy Florencya Apituley (Faculty of Law Halmahera University, Tobelo)

Sri Wiyanti Eddyono (Faculty of Law Gadja Mada University, Yogyakarta)

369-378

Muhamad Chaidar (Faculty of Law August 17 1945 University of Surabaya, Surabaya)

Budiarsih Budiarsih (Faculty of Law August 17 1945 University of Surabaya, Surabaya)

379-389

Maswandi Maswandi (Faculty of Law Medan Area University, Medan)

Jamillah Jamillah (Faculty of Law Medan Area University, Medan)

Ariman Sitompul (Faculty of Law Dharmawangsa University, Medan)

390-396

Alya Nabila (Faculty of Law Airlangga University, Surabaya)

Kandi Kirana Larasati (Faculty of Law Airlangga University, Surabaya)

397-410

Bimo Fajar Hantoro (University of Illinois at Urbana-Champaign College of Law, Illinois)

411-431

Johanis Steny Franco Peilouw (Faculty of Law Pattimura University, Ambon)

432-446

Wahyuni Retno Wulandari (Faculty of Law Trisakti University, Jakarta)

447-457

Abdullah Abdullah (Faculty of Sharia Institut Agama Islam Negeri Lhokseumawe, Lhokseumawe)

Muhammad Hatta (Faculty of Law Malikussaleh University, Lhokseumawe)

458-469

Ilham Soetansah (Faculty of Law Sriwijaya University, Palembang)

Joni Emirzon (Faculty of Law Sriwijaya University, Palembang)

Annalisa Yahanan (Faculty of Law Sriwijaya University, Palembang)

470-481

Darmawati Darmawati (Faculty of Law Ichsan University, Gorontalo)

Mulyadi Alrianto Tajuddin (Faculty of Law Musamus University, Merauke)

Firman Hadi (Faculty of Law Ichsan University, Gorontalo)

482-491

Asriadi Zainuddin (Faculty of Sharia Sultan Amai State Islamic Institute, Gorontalo)

Abdul Jamil (Faculty of Law Islamic University of Indonesia, Yogyakarta)

Dedi Sumanto (Faculty of Sharia Sultan Amai State Islamic Institute, Gorontalo)

492-505