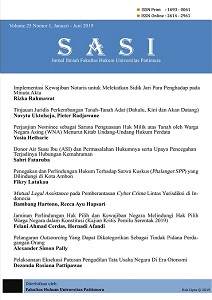 ISSN Online: 2614-2961
ISSN Print: 1693-0061
Frequency: 4 issues per year (March, June, September, December)
Editor in Chief: Sarah Selfina Kuahaty
Managing Editor: Muchtar Anshary Hamid Labetubun
Focus: Criminal Law, Civil Law, Constitutional Law, International Law, Administrative Law, Environmental Law, Customary Law and other parts related to contemporary issues in the field of law.
Citation Analysis: Google Scholar
Publisher: Faculty of Law Pattimura University
Indexed/Abstracted by: Directory of Open Access Journals (DOAJ), BASE, Google Scholar, Index Copernicus, OCLC WorldCat, SINTA, GARUDA
SASI is a peer-reviewed journal. The purpose of this journal is to provide a place for academics, researchers and practitioners to publish original research articles or review articles. This journal provides direct open access to its content based on the principle that making research freely available to the public support greater global knowledge exchange. SASI is available in print and online versions.
SASI has been accredited by Kemenristek Dikti No. 28/E/KPT/2019 (Sinta 3)
OAI Address
The SASI has OAI address: https://fhukum.unpatti.ac.id/jurnal/sasi/oai
Online Submissions
1. Already have a Username/Password for SASI ? GO TO LOGIN
2. Need a Username/Password ? GO TO REGISTRATION
Registration and login are required to submit items online and to check the status of current submissions.
---
SASI - Accreditated Rank 3 (Sinta 3) by RistekDikti of The Republic of Indonesia

ACCREDITATED Rank 3 (Peringkat 3) by Ministry of Research, Technology and Higher Education of the Republic of Indonesia, Decree No. 28/E/KPT/2019, September 26, 2019.
Posted: 2019-10-20
Pengantar Editorial
Ilmu pengetahuan memanglah tumbuh begitu kilat. Perihal ini dimungkinkan, sebab ilmu pengetahuan bagaikan suatu yang sangat sakral dalam pemikiran teologia, ilmu hukum merupakan salah satu bagian kajian yang tidak sempat putus bersamaan dengan kemajuan teknologi serta manusianya dalam kehidupan warga sehingga pandangan- pandangan tentang ilmu hukum itu kerap berbenturan dengan kondisi yang terdapat dimana kajiannya lebih bertabiat integral serta bukan pada bagian ilmu yang tertentu.
Dalam edisi Volume 26 Nomor 1, Januari - Maret 2020 ini beberapa permasalahan hukum yang menjadi sorotan adalah TRIPS dalam Kaitannya dengan Perlindungan Hukum Terhadap Rahasia Dagang, Desain Industri dan Desain Tata Letak Sirkuit Terpadu Di Indonesia, Pelaksanaan Kebijakan Penyanderaan Pajak (Gijzeling) Dilihat Dari Perspektif Hak Asasi Manusia, Pengaturan Penyelesaian Sengketa Penanaman Modal dalam Peraturan Daerah Nomor 7 Tahun 2018 tentang Penanaman Modal Provinsi Riau, Politik Hukum Terhadap Qanun Nomor 6 Tahun 2014 Tentang Hukum Jinayah, Kerugian Keuangan Negara atau Perekonomian Negara Dalam Menentukan Hukuman Mati Pada Tindak Pidana Korupsi, Telaah Konsepsi Negara Hukum dan Demokrasi dalam Pembentukan Blue Constitution Di Indonesia, Komisi Pemberantasan Korupsi Menjadi Objek Hak Angket Dewan Perwakilan Rakyat (Analisis Yuridis Terhadap Putusan Mahkamah Konstitusi Nomor 36/PUU-XV/2017 dan Undang-Undang MD3), Peluang dan Tantangan Penerapan Prinsip Permanent Soverignity Over Natural Resources di Indonesia, Status Kepemilikan Hak Atas Tanah Adat Marga dalam Kebijakan Penataan Aset Reforma Agraria Di Kabupaten Maluku Tenggara, Analisis Hukum Surat Pelepasan Hak Atas Tanah Adat (Dati) Di Kota Ambon, Transparansi Partai Politik dalam Rekrutmen Calon Legislatif, Koordinasi Kelembagaan dalam Penenggelaman Kapal Hasil Tindak Pidana Di Bidang Perikanan .
Pemikiran-pemikiran ilmiah yang dikaji di atas merupakan upaya pengembangan dan pembaharuan ilmu hukum kedepan, semoga tulisan-tulisan ini bermanfaat.
Table of Contents
Articles
Sabri Fataruba

Abstract views:

38

times

1-8

Resmaya Agnesia Mutiara Sirait

Abstract views:

21

times

9-19

Evi Deliana

Abstract views:

55

times

20-28

Rahmiati Rahmiati

Abstract views:

21

times

29-38

Herman Katimin

Abstract views:

30

times

39-51

Fathan Ali Mubiina

Abstract views:

37

times

52-74

Paman Nurlette

Abstract views:

15

times

75-88

Popi Tuhulele

Abstract views:

13

times

89-98

Ronald Saija

Fransiscus X. V. R Letsoin

Rory Jeff Akyuwen

Pieter Radjawane

Abstract views:

15

times

99-110

Desy Kosita Hallauw

Jenny Kristiana Matuankotta

Novyta Uktolseja

Abstract views:

20

times

111-118

Reny Heronia Nendissa

Claudio Patrick I Rahakbauw

Abstract views:

21

times

119-127

Sherly Adam

Abstract views:

16

times

128-142
Cover
Abstract views:

25

times

0