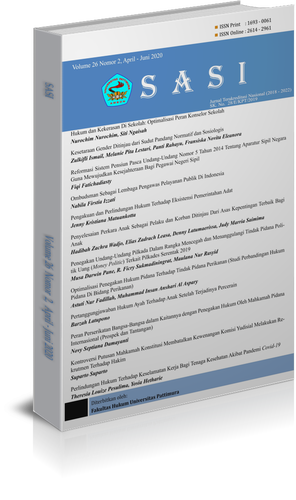 ---
Journal Title: SASI
ISSN Online: 2614-2961
ISSN Print: 1693-0061 
DOI: 10.47268/sasi by Crossref
Frequency: 4 issues per year (March, June, September, December)
Editor in Chief: Sarah Selfina Kuahaty
Associate Editor: Muchtar Anshary Hamid Labetubun
Focus: Criminal Law, Civil Law, Constitutional Law, International Law, Administrative Law, Environmental Law, Customary Law and other parts related to contemporary issues in the field of law.
Publisher: Faculty of Law Pattimura University
APC: Free of charge (submission, publishing) | more info
Indexing: DOAJ | EBSCO | SINTA 3 | more info
Citation Analysis: SCOPUS | Dimensions | Google Scholar
Deposit Policy : SHERPA/RoMEO
---
SASI is a peer-reviewed journal. The purpose of this journal is to provide a place for academics, researchers and practitioners to publish original research articles or review articles. This journal provides direct open access to its content based on the principle that making research freely available to the public support greater global knowledge exchange. SASI is available in print and online versions.
SASI has been accredited by Kemenristek Dikti No. 28/E/KPT/2019 (Sinta 3) Valid from Vol. 24 No. 1, 2018 until Vol. 28. No. 1, 2022
OAI Address
SASI has OAI address: 
https://fhukum.unpatti.ac.id/jurnal/sasi/oai
Before submission,
You have to make sure that your paper is prepared using the SASI paper TEMPLATE, has been carefully proofread and polished, and conformed to the author's guidelines. 
Online Submissions
1. Already have a Username/Password for SASI ? GO TO LOGIN
2. Need a Username/Password ? GO TO REGISTRATION
Registration and login are required to submit items online and to check the status of current submissions.
---

SASI has been Indexed by :
---
Uncategorized (S3) Author's SINTA Account

Due to the problem of author's publication that is not detected in SINTA (Uncategorized) so that the S3 display does not appear in the Overview view of the author's SINTA account, this form is made to facilitate the process of tracing these problems.
Please fill out the form https://fji.page.link/UncategorizedAuthorSinta

Posted: 2020-09-23
Introduction

Every person in carrying out their daily life in this world has their own rules. These rules are usually in the form of prohibitions or orders in doing something, this is known as the law. This regulation is implemented as an effort to protect the public if they experience crimes or threats from other people. People in their daily life need law as mutual peace and tranquility. The existence of law in society to regulate and minimize various people's lives to form a life order that is safe, orderly, and just. Indonesia as a rule of law thus regulates every citizen the exercise of rights and obligations. This is as mandated in the 1945 Constitution of the Republic of Indonesia Article 1 paragraph (3) that law is a necessity in the life of the nation and state because the existence of law can create order and justice in society.
In this edition of volume 26 Number 4 October -December 2020, several legal issues that are in the spotlight are: Dispute Resolution of the Authority of Independent State Institutions in Indonesia, Actualization of Immigration Functions in the Security Aspect as an Integral Effort to Handling the Covid-19 Pandemic in Indonesia, Misconceptions of Imposing Responsibilities to the Directors of State-Owned Enterprises in the Crime of Corruption, Legal Certainty Against the Protection of Jaipongan Dance Creations in the West Java Region, Child Grooming as a Form of Child Sexual Abuse through Online Game Applications, Opening of Bank Confidentiality Principles as Unlawful Actions, Authority for Material Testing ( Judicial Review) on the Decree of the People's Consultative Assembly by the Constitutional Court, Parsing Dual Citizenship in Indonesia in the Perspective of Human Rights and Welfare State, Upholding International Jurisdiction of the Criminal Court for Post-Kampala Amendments Aggression Crimes Adopted in the Rome Statute, Regional Arrangement Construction and Government Affairs Sharing Models, Restructuring the Legal Culture of the Attorney General's Office in Prosecution as Independence in the Indonesian Criminal Justice System.
The scientific thoughts studied above are an effort to develop and renew legal science in the future, I hope these papers are useful.
Table of Contents
Cover SASI Vol. 26 No. 4, Oktober - Desember 2020

Abstract views:

0

times
Articles
Kelik Iswandi (Fakultas Hukum Universitas Muhammadiyah Yogyakarta)

Nanik Prasetyoningsih (Fakultas Hukum Universitas Muhammadiyah Yogyakarta)

10.47268/sasi.v26i4.283

Abstract views:

0

times

434-446

Herman Suryokumoro (Fakultas Hukum Universitas Brawijaya, Malang)

10.47268/sasi.v26i4.400

Abstract views:

0

times

447-457

Bayu Novendra (Fakultas Hukum Universitas Indonesia, Depok)

Aulia Mutiara Syifa (Fakultas Hukum Universitas Indonesia, Depok)

10.47268/sasi.v26i4.298

Abstract views:

0

times

458-473

Sulistijono Sulistijono (Fakultas Industri Kreatif Universitas Telkom, Bandung)

10.47268/sasi.v26i4.428

Abstract views:

0

times

474-489

Anna Maria Salamor (Fakultas Hukum Universitas Pattimura, Ambon)

Astuti Nur Fadillah Mahmud (Fakultas Hukum Universitas Pattimura, Ambon)

Patrick Corputty (Fakultas Hukum Universitas Pattimura, Ambon)

Yonna Beatrix Salamor (Fakultas Hukum Universitas Pattimura, Ambon)

10.47268/sasi.v26i4.381

Abstract views:

0

times

490-499

Dinda Anna Zatika (Pascasarjana Ilmu Hukum Universitas Indonesia, Jakarta)

10.47268/sasi.v26i4.238

Abstract views:

0

times

500-513

Lintang Galih Pratiwi (Pascasarjana Ilmu Hukum Universitas Indonesia, Jakarta)

10.47268/sasi.v26i4.268

Abstract views:

0

times

514-526

Supriyadi A Arief (Pascasarjana Ilmu Hukum Universitas Padjadjaran, Bandung)

10.47268/sasi.v26i4.269

Abstract views:

0

times

527-539

Apripari Irham (Pascasarjana Ilmu Hukum Universitas Padjadjaran, Bandung)

10.47268/sasi.v26i4.272

Abstract views:

0

times

540-556

Sherlock Halmes Lekipiouw (Fakultas Hukum Universitas Pattimura, Ambon)

10.47268/sasi.v26i4.414

Abstract views:

0

times

557-570

Appludnopsanji Appludnopsanji (Fakultas Hukum Universitas Diponegoro, Semarang)

Pujiyono Pujiyono (Fakultas Hukum Universitas Diponegoro, Semarang)

10.47268/sasi.v26i4.359

Abstract views:

0

times

571-581