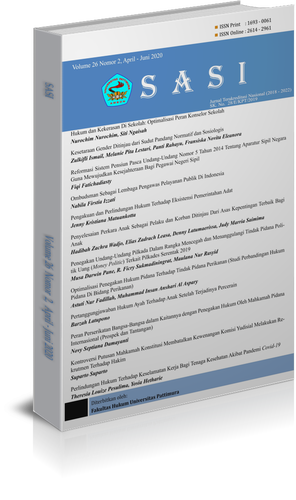 ---
Journal Title: SASI
ISSN Online: 2614-2961
ISSN Print: 1693-0061 
DOI: 10.47268/sasi by Crossref
Frequency: 4 issues per year (March, June, September, December)
Editor in Chief: Sarah Selfina Kuahaty
Associate Editor: Muchtar Anshary Hamid Labetubun
Focus: Criminal Law, Civil Law, Constitutional Law, International Law, Administrative Law, Environmental Law, Customary Law and other parts related to contemporary issues in the field of law.
Publisher: Faculty of Law Pattimura University
APC: Free of charge (submission, publishing) | more info
Indexing: DOAJ | EBSCO | SINTA 3 | more info
Citation Analysis: SCOPUS | Dimensions | Google Scholar
Deposit Policy : SHERPA/RoMEO
---
SASI is a peer-reviewed journal. The purpose of this journal is to provide a place for academics, researchers and practitioners to publish original research articles or review articles. This journal provides direct open access to its content based on the principle that making research freely available to the public support greater global knowledge exchange. SASI is available in print and online versions.
SASI has been accredited by Kemenristek Dikti No. 28/E/KPT/2019 (Sinta 3) Valid from Vol. 24 No. 1, 2018 until Vol. 28. No. 1, 2022
OAI Address
SASI has OAI address: 
https://fhukum.unpatti.ac.id/jurnal/sasi/oai
Before submission,
You have to make sure that your paper is prepared using the SASI paper TEMPLATE, has been carefully proofread and polished, and conformed to the author's guidelines. 
Online Submissions
1. Already have a Username/Password for SASI ? GO TO LOGIN
2. Need a Username/Password ? GO TO REGISTRATION
Registration and login are required to submit items online and to check the status of current submissions.
---

SASI has been Indexed by :
---
Introduction
Law is a rule that is always located wherever we stand, but the application of law in one country is different from the law in other countries. The existence of law in a country there is customary law that applies to each region, namely the law that is born from the culture and local wisdom of ethnic groups. Aristotle, a famous philosopher from Greece, he defined the law into two namely Specific Laws and Universal Laws. Specific Laws are rules that stipulate or prohibit different types of actions. While the Universal Law is a natural law that has its own internal order and direction.
In this edition of volume 27 Number 3 July-September 2021, several legal issues that are in the spotlight are: Criminal Liability for Environmental Damage Due to Material Processing by PT Tukad Mas Kota Bima; The function of the Makassar City Regional House of Representatives in the Formation of Responsive Regional Regulations; The Problem of the Right to Honorary Citizenship in Indonesia: Its Implementation and Impact; Wallacea Bird Hunting Criminal Policy In Aru Islands ; Optimizing the Legislation Function of the Village Consultative Body; Integrated Criminal Policy: The Role of the Ministry of Religion in the Prevention of Corruption; Implementation of Electronic Certificates as Legal Certainty Guarantees of Land Rights Ownership in Indonesia; Proof of Potential Losses in Lawsuits Against State Administrative Decisions; Prevention of Violence Against Wife In The Household (Human Rights Perspective); Application of the Primum Remedium Principle for Environmental Crimes; Disgraceful acts as one of the reasons for impeaching the president and/or vice president in the study of criminal law in Indonesia.
The scientific thoughts studied above are an effort to develop and renew the science of law in the future, hopefully these writings are useful.
Table of Contents
| | | |
| --- | --- | --- |
| | Cover SASI Vol. 27 No. 3, Juli - September 2021 | |
Articles
Hajairin Hajairin (Sekolah Tinggi Ilmu Hukum Muhammadiyah Bima, Kota Bima)

Gufran Sanusi (Sekolah Tinggi Ilmu Hukum Muhammadiyah Bima, Kota Bima)

Aman Ma'arij (Sekolah Tinggi Ilmu Hukum Muhammadiyah Bima, Kota Bima)

267 - 276

Ismail Ismail (Fakultas Hukum Universitas Hasanuddin, Makassar)

Andi Pangerang Moenta (Fakultas Hukum Universitas Hasanuddin, Makassar)

Zulkifli Aspan (Fakultas Hukum Universitas Hasanuddin, Makassar)

277 - 287

Deden Rafi Syafiq Rabbani (Fakultas Hukum Universitas Padjadjaran)

288 - 302

Yanti Amelia Lewerissa (Fakultas Hukum Universitas Pattimura, Ambon)

303 - 313

Fransiskus Samderubun (Universitas Hasanuddin)

Achmad Ruslan (Fakultas Hukum Universitas Hasanudin, Makassar)

Hamzah Halim (Fakultas Hukum Universitas Hasanudin, Makassar)

314 - 322

Jusafri Jusafri (Fakultas Hukum Universitas Sembilanbelas November Kolaka)

323 - 334

Nur Hidayani Alimuddin (Universitas Sembilanbelas November Kolaka)

335 - 345

Rizky Ramadhan Baried (Fakultas Hukum Universitas Islam Indonesia, Yogyakarta)

346 - 355

Margie Gladies Sopacua (Faculty of Law, Pattimura University, Ambon)

356 - 362

Kania Tamara Pratiwi (Fakultas Hukum Universitas Mulawarman)

Siti Kotijah (Fakultas Hukum Universitas Mulawarman, Samarinda)

Rini Apriyani (Fakultas Hukum Universitas Mulawarman, Samarinda)

363 - 375

Muhammad Irham (Fakultas Hukum Universitas Pattimura, Ambon)

Nani Mulyati (Fakultas Hukum Universitas Andalas, Padang)

376 - 401